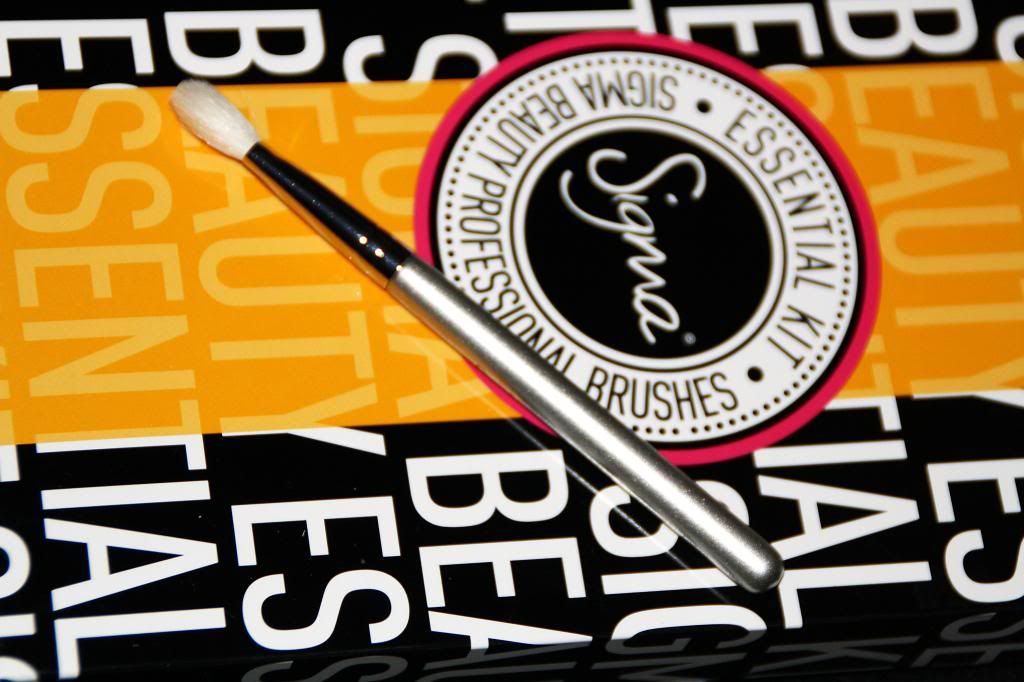 When I originally bought this set of make-up brushes - before the likes of Real Techniques and other high quality drugstore brushes - there were essentially two options for anyone looking for good quality brushes: MAC and Sigma. While not outrageously expensive, neither brands are exactly cheap, but if the quality is right, a set of make-up brushes will last years and years, so it's an investment that is worth making.
The issue I've always found with Sigma is that they have quite a wide affiliate programme for bloggers. While that's great news for beauty bloggers, it also means that finding balanced reviews of Sigma products can prove a tad difficult. Nevertheless I took the plunge and ordered myself this Essential Kit, which contains 12 brushes for both face and eyes and came with a little extra travel brush as shown above.
In this review I'll talk you through each and every one of these brushes and tell you about my thoughts and experiences. All the pictures you can see (apart from the one above) show the brushes after more than a year and a half of frequent use, so that you can see how they cope with being used and washed all the time. Unfortunately I can't show you all of the brushes, as there has been an incident several weeks ago where two very naughty puppies were left unattended in my bedroom for a few minutes and a few of my brushes didn't survive the encounter.... But let's get stuck in.
E05 - Eye Liner Brush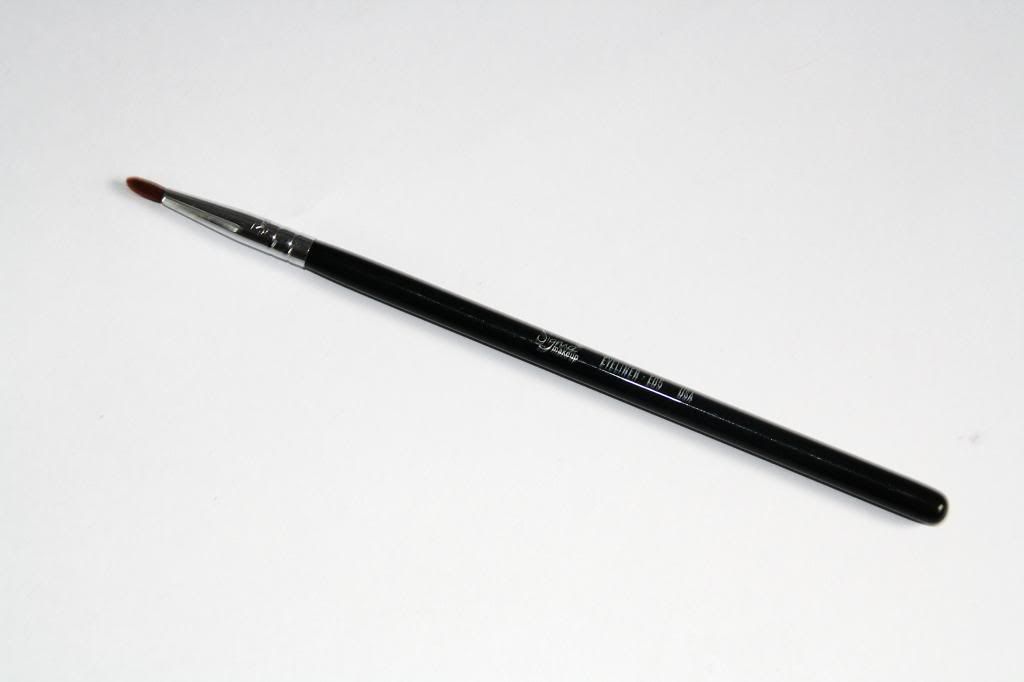 This brush is designed for use with gel or liquid liners. While it's nice and densely packed, I find that the bristles are a tad too long and soft, which can make for slightly wobbly application. It works fine with coloured or not too heavily pigmented liners where you don't need an overly crisp line, but for black liners I much prefer the angled brush (E70 below).
E25 - Blending
This one doesn't actually come in the Essential Kit, but I got it for free as a gift with purchase, so I thought it would be nice to include it in this post. It's actually a great brush and can be used for packing on eye shadow as well as blending it out. The shape really hugs the eye lid and the bristles have kept their shape exceptionally well considering their softness.
E30 - Pencil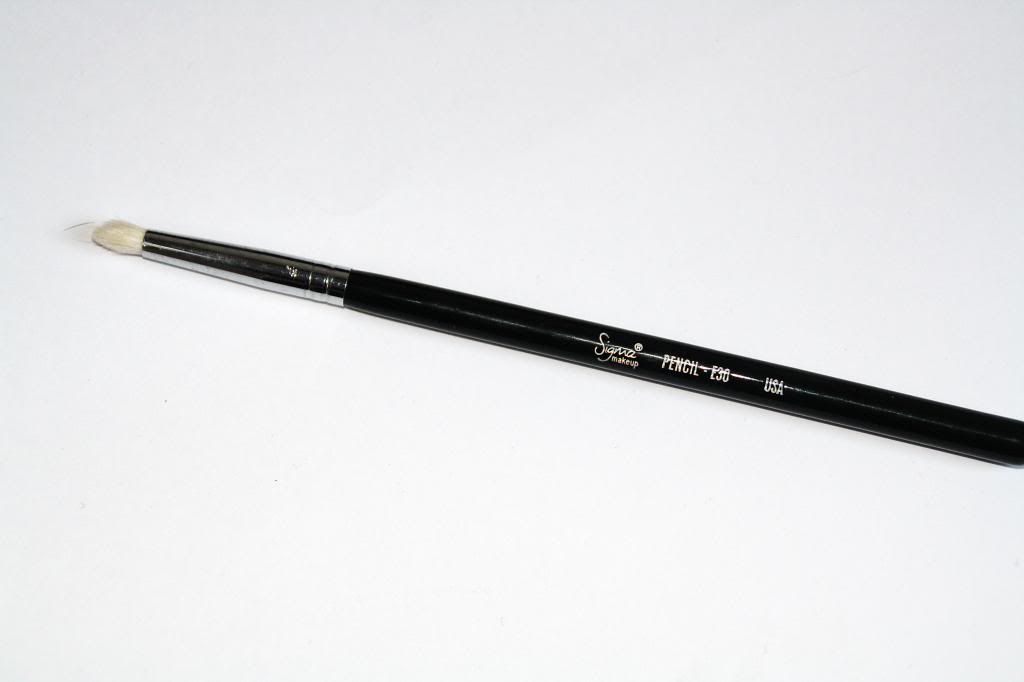 This is a brush I love dearly. The thin, tapered shape makes it perfect for applying a thin line of eyeshadow close to the lower lash line. It's firm enough for precise application, but nowhere near as scratchy as similar brushes I've used from other brands. Despite the fact that I've been using it quite a lot, it's still held its shape very well.
E40 - Tapered Blending
This is the first naughty puppy victim, so apologies for the stock photo. It's basically the same as a MAC 224 brush, only a tad wider and significantly softer. I've tried using it for concealer and found that it absorbs way too much product. For eye shadow application it's also not particularly great, as it's so soft that it gets the eye shadow literally everywhere. Where it does shine, however, is in blending out any harsh lines or removing product if you've gone a little overboard.
E55 - Eye Shading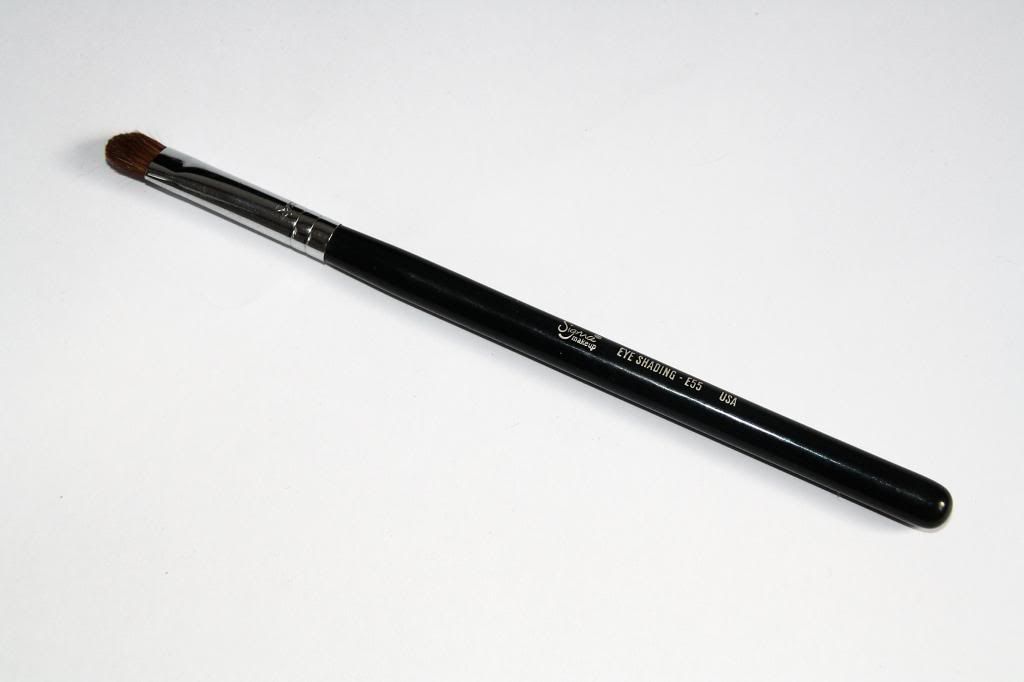 This is one of my favourites from the set. The dense, soft bristles are absolutely perfect for just packing on eye shadows when you're looking for a strong look. Just use a tapered brush over it to blend out the edges and you're good to go! I found that even loose pigments can be applied relatively mess free with this one. The shape has also stayed virtually unchanged since the day I first got it.
E60 - Large Shader
Another brush that now sadly lives in the graveyard of brushes. Admittedly, this isn't one I really miss. It's a little denser and more stiff than the E55 brushes discussed above and because it's also a lot bigger I find that it creates edges that are just a bit too harsh. It might be more useful to anyone who prefers really light eye shadow colours and wants to be done with their make-up in just one swipe.
E65 - Small Angle
I consider this brush a must have in every woman's make-up collection. The edge of the brush is as thin as a feather, allowing for ultra precise application of gel liner or eye brow powder. Despite the dense, thin bristles, it hasn't gone scratchy at any stage like so many of my other angled brushes. Multi-functional and long lasting - what's not to love?
E70 - Medium Angled Shading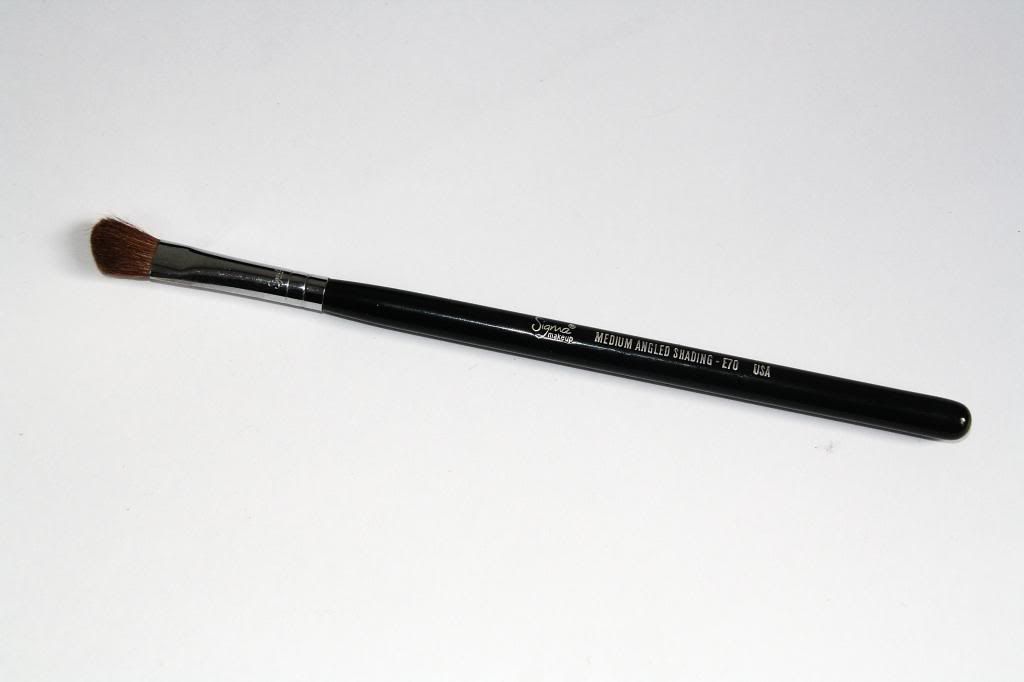 This is sort of like an E55 but with in-built blending function. It does a really great job at hugging the socket of your eye and naturally creating a great shape for your eye shadow. For darker or more heavily pigmented shadows you'll still need to go over with a separate blending brush, however.
F30 - Large Powder
Losing this brush hurts. It really, really hurts. It's quite easily the best powder brush I've ever come across. It picks up the perfect amount of product each and every time, remained soft ever since I got it despite virtually daily use and didn't show a single sign of splaying. Due to its tapered shape it's perfect for applying bronzer under the cheekbones for a chiselled contour. I really need to replace this one as soon as possible.
F40 - Large Angled Contour
Another great multi-purpose brush which can be used wide enough for blush or bronzer, or small enough for a light wash of highlighter. When I first got this one I went a little crazy for it and used it almost daily with a powder highlighter. As a result it's shown quite a lot of splaying after a few months and I stuck to using it with bronzer or contour since until I eventually gave up on it altogether.
F50 - Duo Fibre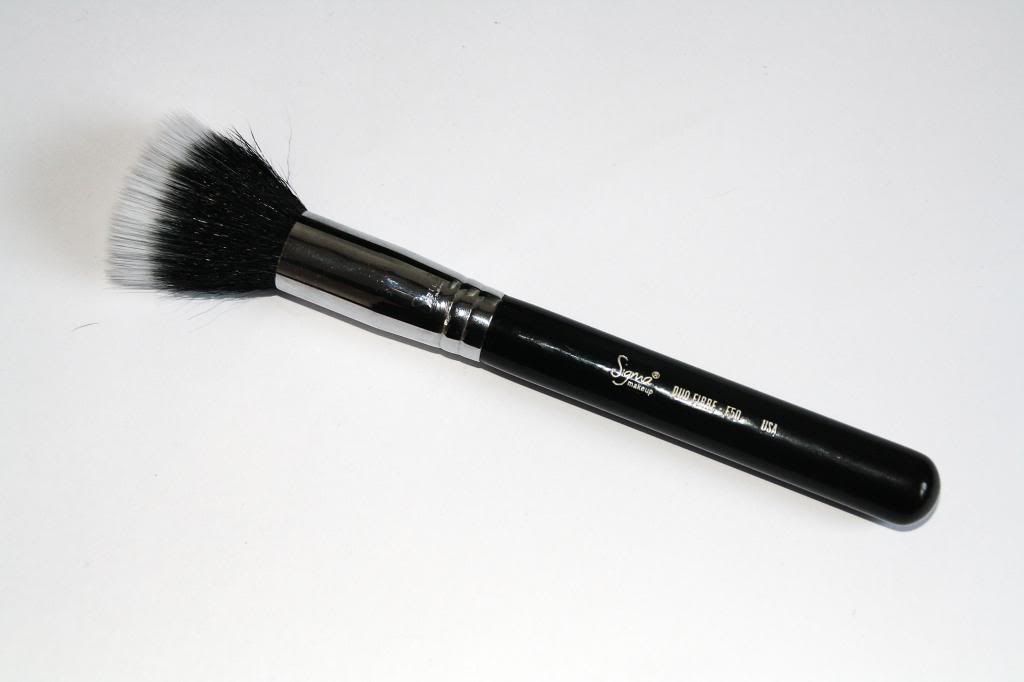 I love this brush for cream blusher, as the bristles are just so soft, yet dense enough to pick up a nice amount of product. My love for it has resulted in quite a bit of splaying as you can see in the picture above, but it still works absolutely fine and is just as soft as it was when I got it. I wouldn't really recommend it for foundation, as it's not quite dense enough for that, but for blusher or cream contour it's absolutely perfect.
F60 - Foundation
This is probably my least used brush out of all of them. As a general rule I find these types of foundation brushes a bit streaky and this one is no exception. I much prefer the natural finish that you get by applying foundation with your hands and only use this if my skin is behaving so badly that I really need to pack on the make-up.
F70 - Concealer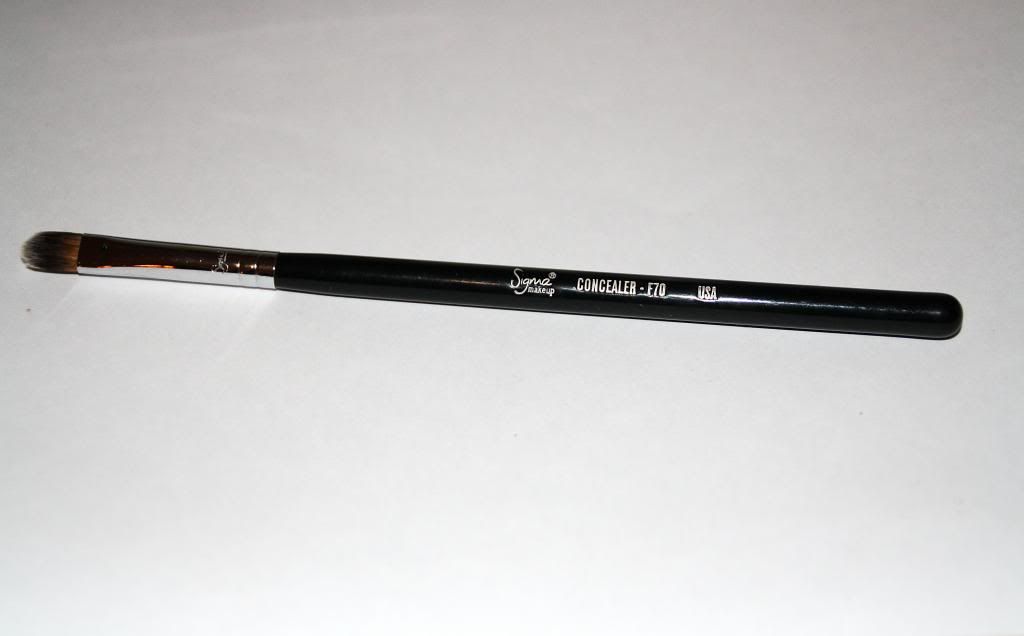 I'm a bit in two minds about this one. How well it performs really depends on the type of concealer you use it with. It tends to be no good with thin and light formulas, as the thick, dense bristles absorb so much product you'd need to use half a tube just to have any of it remain on your face. The brush does work really well with thick and pasty concealers, however, which would otherwise be too hard to apply with just fingers. It's only because I rarely ever buy thick concealers that I haven't found much use for this particular brush.
Now, to sum up this essay of a post, I'd say that I'm pretty impressed with Sigma brushes. They feel sturdy and well made and I love that the handles are a tiny bit weighted, which makes them sit in the hand a lot nicer. In comparison to my MAC brushes the bristles are a lot softer, but still just as precise at picking up the product. I'd actually choose Sigma over MAC any time.
The only downside is that Sigma is not readily available in Europe and the UK. They do ship worldwide, but as your order will get shipped from America you need to be prepared to pay extra taxes before you get your parcel.
You can find the Essential Kit for $139 on the Sigma website
here
.