It's no secret that I'm a huge fan of Drop Dead Clothing. Their items feature on pretty much every month's wish list and every time I'm in Central I just find myself magically drawn to their Soho store. So imagine my face when my boyfriend decided to treat me to a big bag of Drop Dead goodies for my birthday! Technically, my birthday isn't till tomorrow, but Joe is possibly one of the worst people at keeping secrets that I've ever come across, so I got all of these a bit early.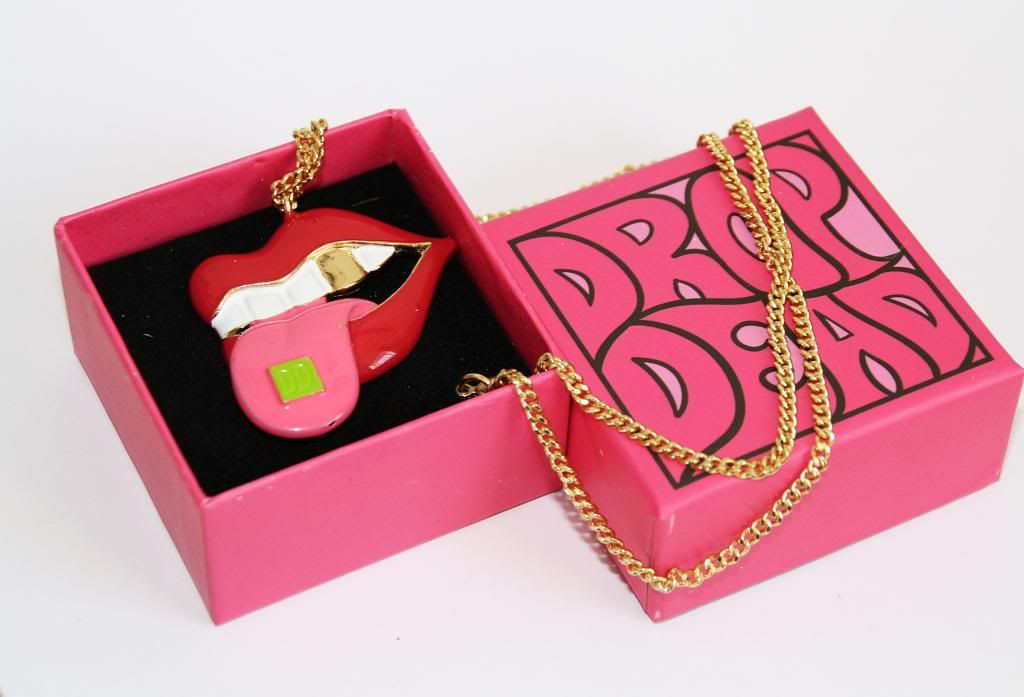 Drop Dead Tasty Treat Pendant
I don't usually wear gold jewellery (though I'm quite partial to rose gold), but I'll happily make an exception for this brightly coloured necklace - a cheeky take on the classic Rolling Stones' symbol with a gold tooth. (... And yes, that's an acid tab on its tongue)
Drop Dead Knuckleduster Rings
Boy oh boy do I love these. Admittedly, knuckleduster type rings aren't the most practical to wear when you're doing stuff with your hands, so I won't be wearing these to work, but just how awesome are they?? You can't really see them that well in the black box, so here's a picture of what they look like on:
Excuse the elephant skin, my hands really don't like this harsh winter weather, haha! On a side note, I also love the boxes that all of this jewellery is housed in. Definitely keeping them for display!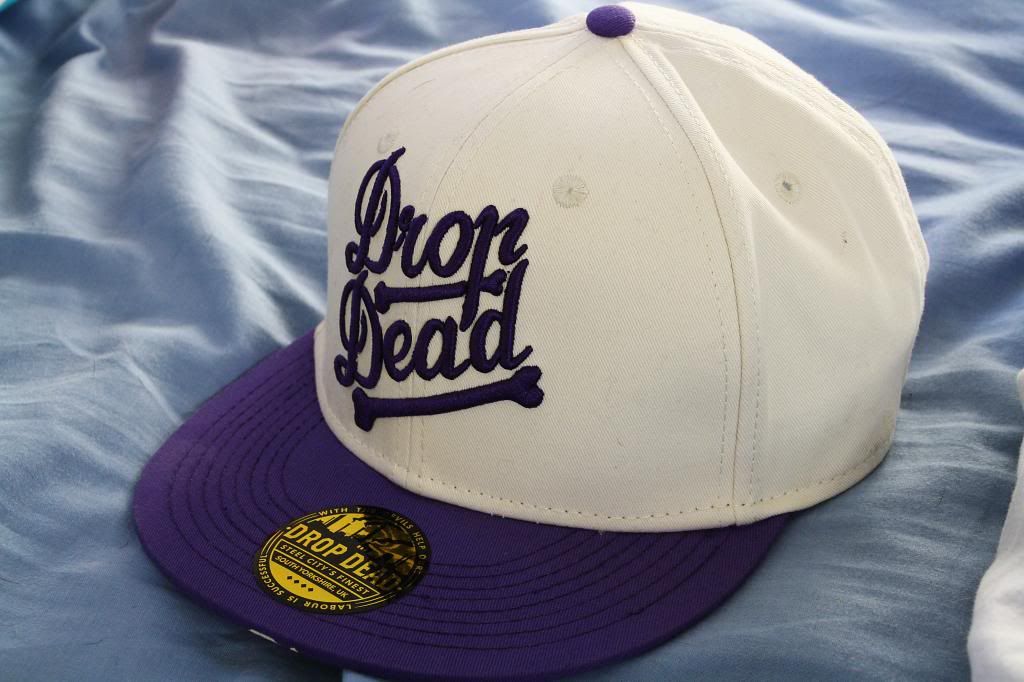 Drop Dead Boner Snapback Cap
I do love me a good snapback. It adds instant edge to any outfits and hides a multitude of sins when I can't be bothered to do my hair or if my next root touch up is still a while away! I think Joe was getting fed up of my always stealing his caps, so he bought me one for myself, haha.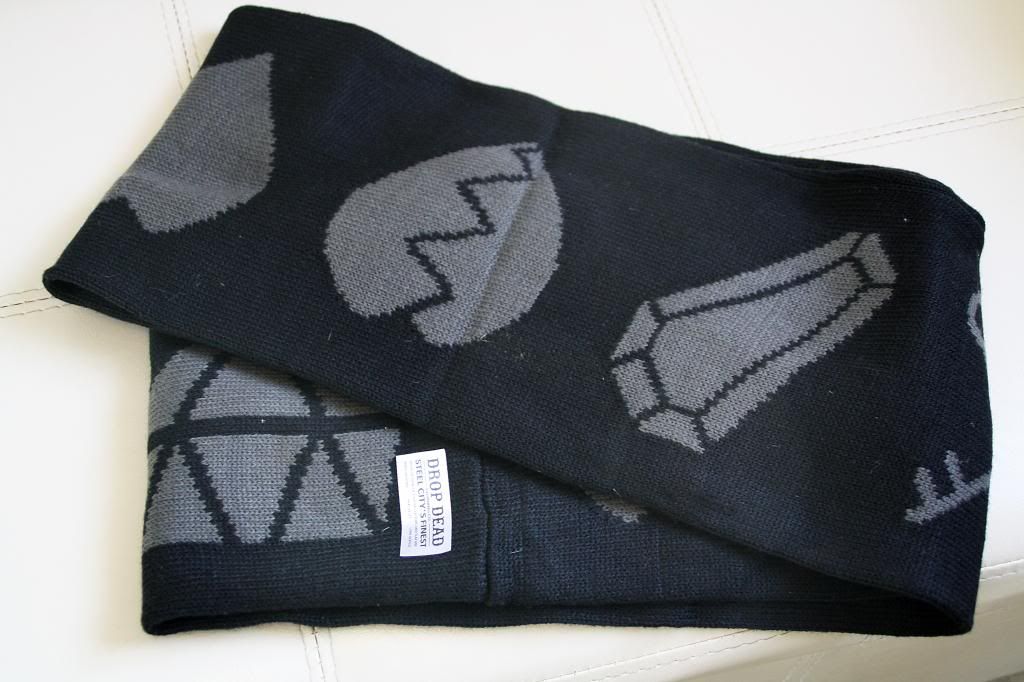 Drop Dead Scarf Guy
A nice black scarf is always appreciated as it goes with pretty much anything and this one in particular is so warm and soft! As its a neverending loop shape you also don't have to fiddle about with loose scarf ends dangling around. I particularly love the diamond symbol on it, it matches one of my tattoos on my left arm!
Drop Dead Tripster Sweater
When I saw this I literally ran around in circles across the room. I found a picture of this sweater ages ago and fell in love with it instantly, only to find out that it had been discontinued. You literally couldn't find it anywhere and it had become something of a collectors' item with prices on eBay hitting around £100. Somehow Joe managed to find me the last one on
Impericon
and I couldn't be happier!
The mouth is actually a little belly pouch which you can pull out to reveal this: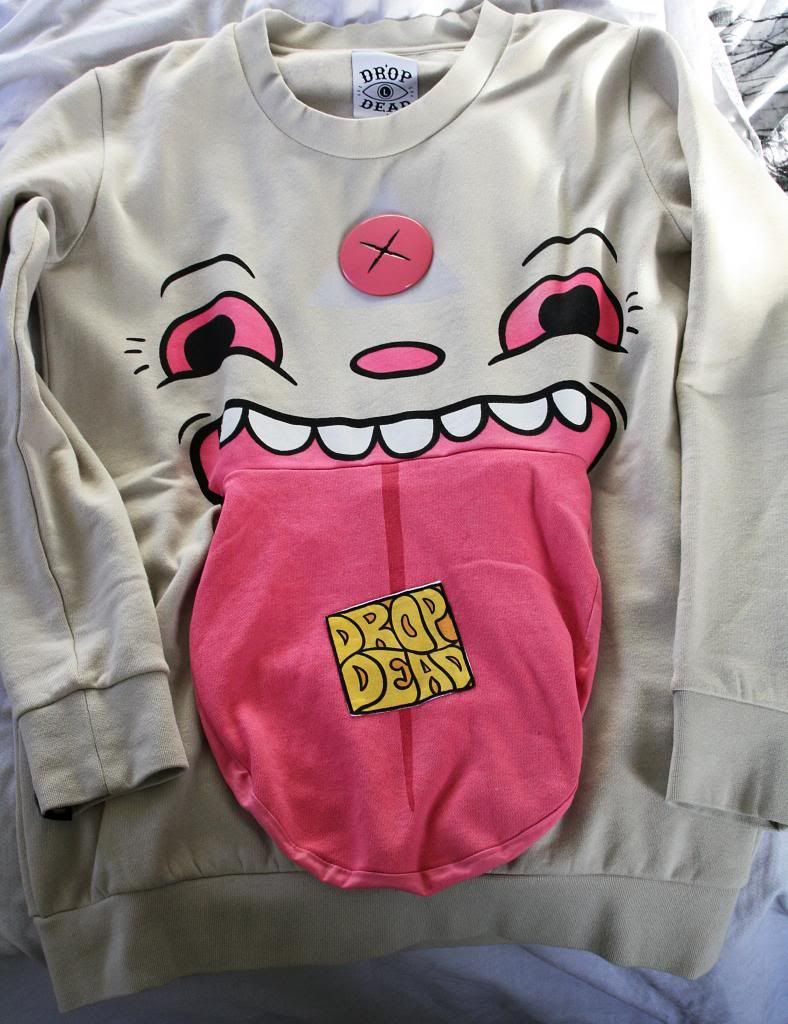 Drop Dead Tripster Sweater
So much fun to be had with a flappy tongue hanging out of your belly! (That sounds a lot weirder written down than it did in my head.) The huge button between the eyes is actually a huge giant button as well. If you ever had a jumper on which you could press a part to make a sound as a kid, you can imagine how I feel wearing this. (...And yes, that's another acid tab on its tongue)
I'm so chuffed with my Drop Dead goodies - I literally love every single item and can't wait to wear it all!
You can find everything bar the Tripster Sweater on the Drop Dead website
here
.