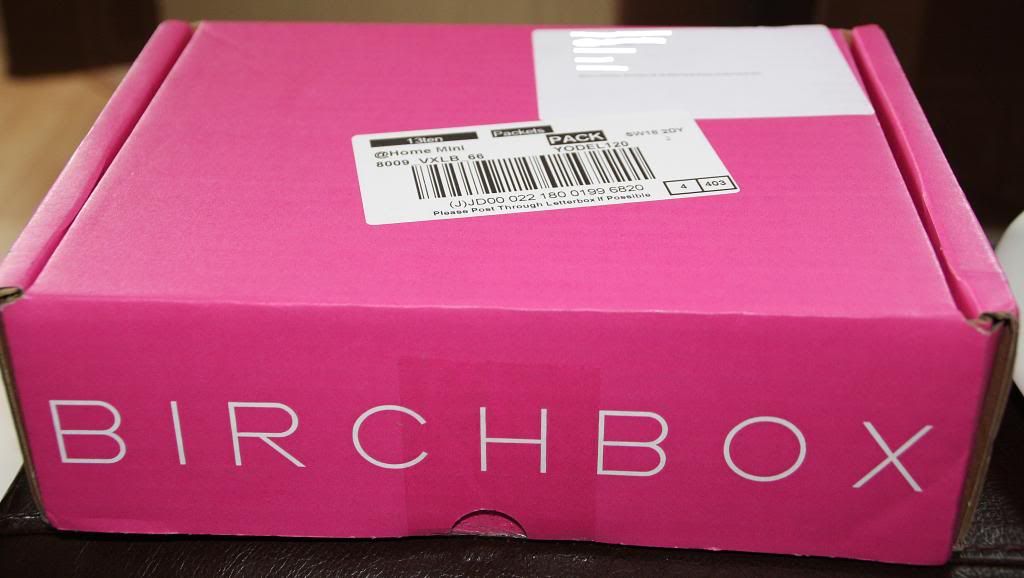 Lookey, lookey, it's another beauty box review. I haven't done one of these in months, as quite frankly, I'd gone off the beauty box craze and felt that there were better ways to spend my hard earned money. But as soon as I heard that Birchbox, the mother of all beauty boxes, was coming to the UK, I've been toying with the idea of subscribing again and finally I took the plunge again at the beginning of the month.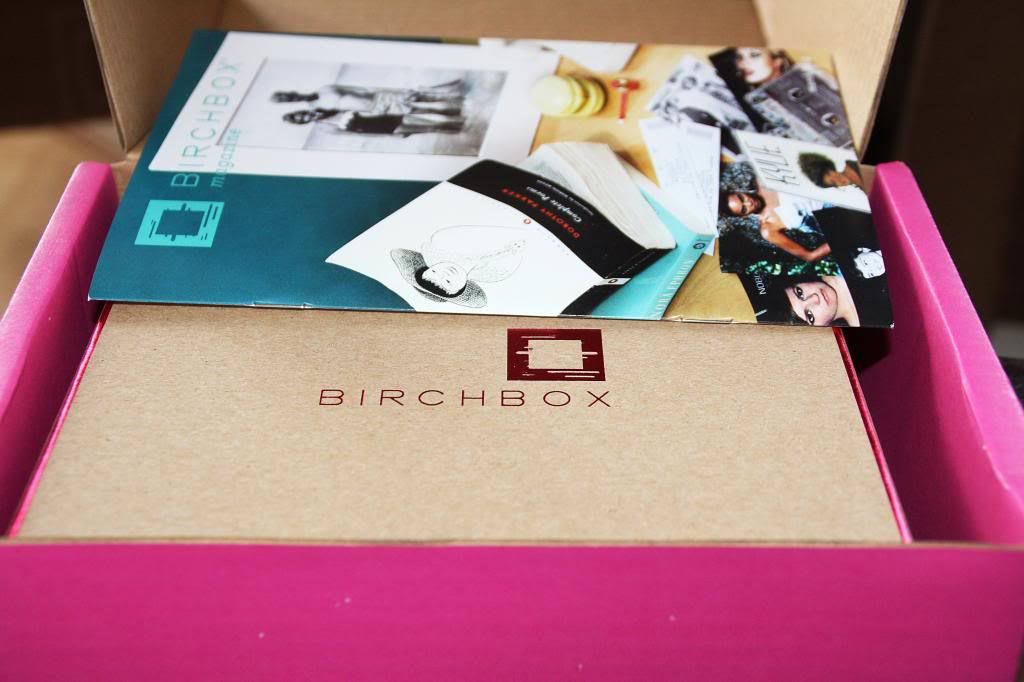 Birchbox are the people who started this whole thing about beauty sample services over in the USA and have now taken over from Joliebox, who originally took over from Boudoir Prive (still following?). The box is housed in a bright pink outer carton, so I instantly knew when my Birchbox had arrived. Inside, there's a Birchbox magazine, which I'm more than happy to read when I get a few minutes, as well as the actual box itself.
In the actual Birchbox you'll find a card with descriptions of all the products, as well as a drawstring bag housing all of the samples. To be honest, I'm not a massive fan of the packaging. The box is a bit plain and unlike all of my Glossyboxes I cannot see myself reusing it. The drawstring bag is also rather pointless and is only going to end up as more landfill.
Included this time were five samples (one of them a full sized product), one beauty extra and one lifestyle extra.
1) Laura Geller | Inkwell Waterproof Gel Liner
Full size: £24.50 / Sample value: £24.50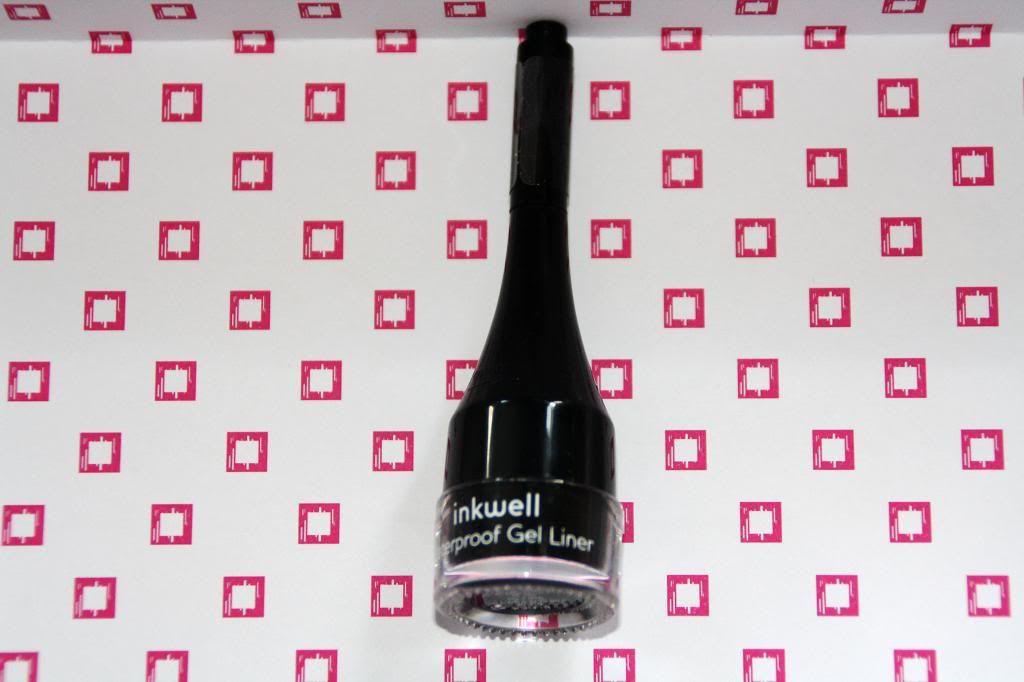 I'm not entirely sure where I've heard of Laura Geller before; while it's not a brand I've never heard of before I'm not familiar with any of their products. Liquid and gel liners are both products that I never manage to finish before they go off or dry out, so I was happy to receive a full size of this as I'm sure I'll be able to get plenty of use out of it.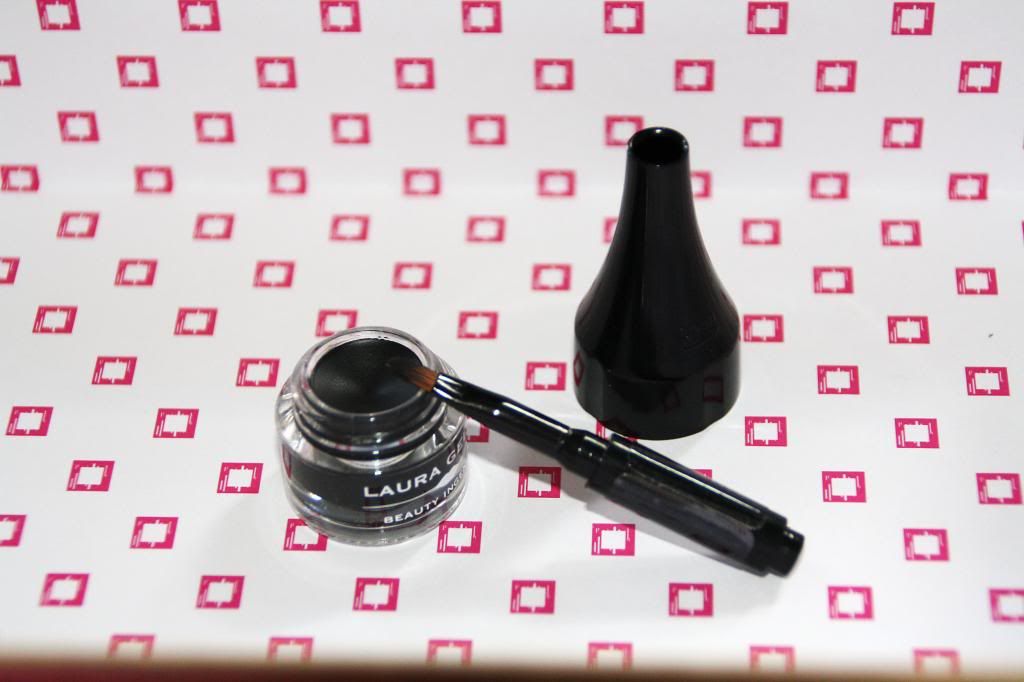 The shade I got is black, which is a nice and safe option, though I wouldn't have minded to get a different colour. I also love the little pop-out brush hidden in the lid of the product, which means I can actually chuck this into my handbag for on-the-go touch-ups. The only thing that puts me off a little is the price. £24.50 for a tiny pot of eye liner? It better be amazing!
2) Molton Brown | Valbonne Fragrance
Full size: £65 / Sample value: Approx. £3.25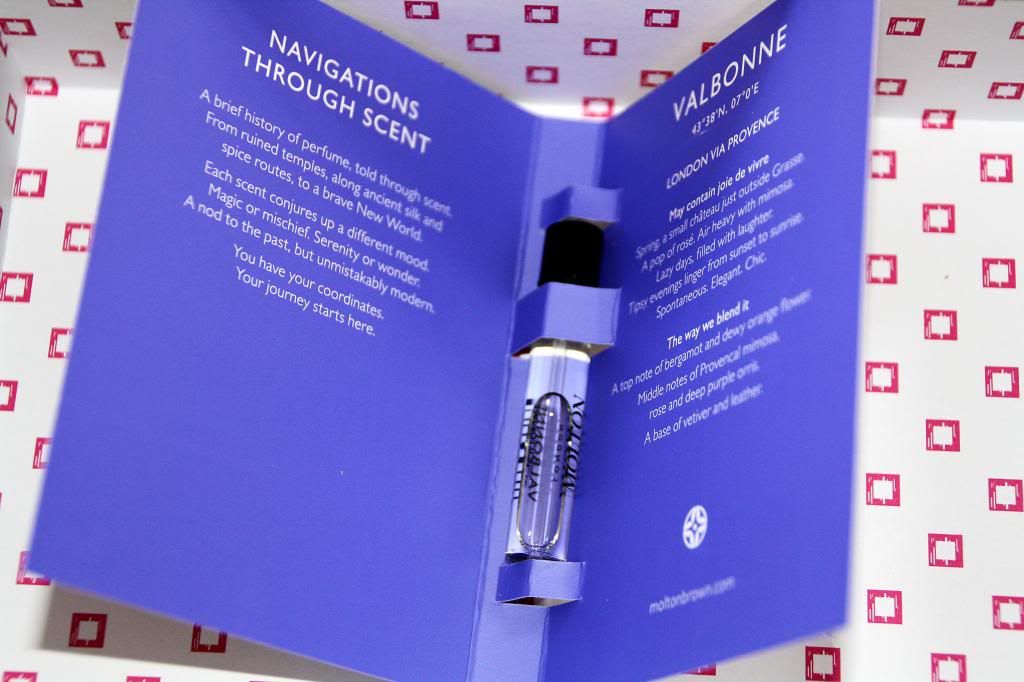 I've said it loads of times before and I'll say it again: I don't believe these little perfume samples should be made part of a sample box - ever. Having said that, there was a total of six products in this month's box as well as the lifestyle extra, so they shall be let off.
As for the fragrance, it is said to contain bergamot, orange flower, rose, vetiver and leather. It opens up with the floral notes which smell absolutely divine, and then settles into this deep, quite masculine leather scent. It smells pretty amazing, but the leather isn't quite "me", so I doubt I'll treat myself to a full size of this.
3) RMK | Cleansing Balm
Full size: £29 / Sample value: £7.25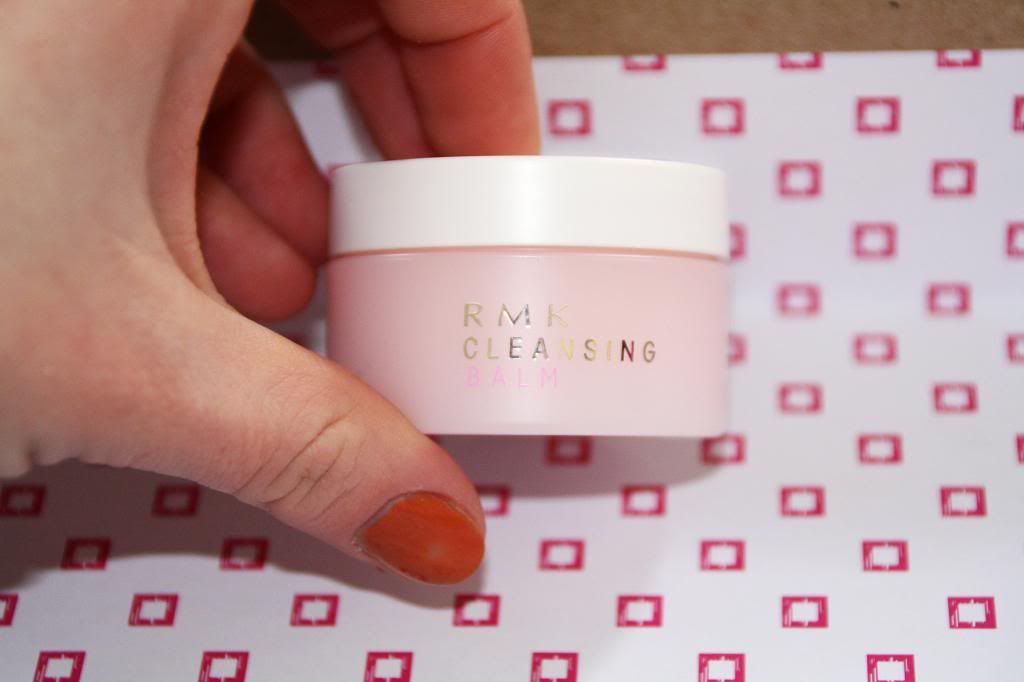 Ooooh, this one's exciting. I've heard lots of good things about this product, yet I've never tried anything from RMK before. I've never used a cleansing balm either, even though they seem to be all the rage when it comes to skin cleansing right now, so I'm beyond excited to give this one a go. It smells very strongly of roses, which reminds me of a particular summer holiday in France. It's also a fairly generous sample size, so I think I'll get quite a bit of use out of it.
4) La Sultane De Saba | Body Lotion With Argan Oil
Full size: £26.50 / Sample value: £5.30
This is one that made me wrinkle my forehead quite a bit. It's a brand I have never, ever heard of and the label looks a bit, well, DIY... The scent is very distinctively oriental, which is not something I'm a fan of (I prefer light smells to heavy, oud like scents), but I like the fact that it contains argan oil to soften skin.
What really annoys me, however, is the packaging of this sample. I have no idea how I'm going to get more than a pea-sized blob out of the hard plastic case and I can just see a lot of this ending up in the bin, which would be a shame, really.
5) Yu-Be | Moisturizing Skin Cream
Full size: £19.50 / Sample value: £0.84
When I saw the size of this sample my thoughts went something like: "You're 'avin a ****ing laugh!?". The tube is tiny. Teeeensy, teensy, tiny. It's a cream for dry or very dry skin, which I don't get a lot of, but as my lips were stinging and burning as I read through the leaflet, I squeezed out a little blob there and then and dabbed it onto my lips. And, well... it's pretty good. It sunk in within seconds without leaving any grease on my lips, but still provided instant relief and moisturisation. I can see this being a brilliant product to use on my lips when they're dry and I want to wear a bright lipstick, as it won't make the colour slip and slide off. Nevertheless, I still think they could have been a bit more generous with the size, this is a little bit on the ridiculous side.
Beauty Extra: Sanctuary | 30 Day Thermal Transformation Mask
Full size: £27.50 / Sample value: £2.31
I luuurve a face mask as a great way to destress and give my skin just a little bit of extra pampering, so these will come in handy on my next day off work. Not sure they're going to make me look any younger, but the two step process sounds quite exciting and is definitely something I look forward to trying out. The sachets are quite large, so I wonder if I can maybe squeeze two applications out of them.
Lifestyle Extra: Lindt | Lindor Heart Tin Filled With Chocolate Truffles
Full size: £2.99 / Sample value: £2.99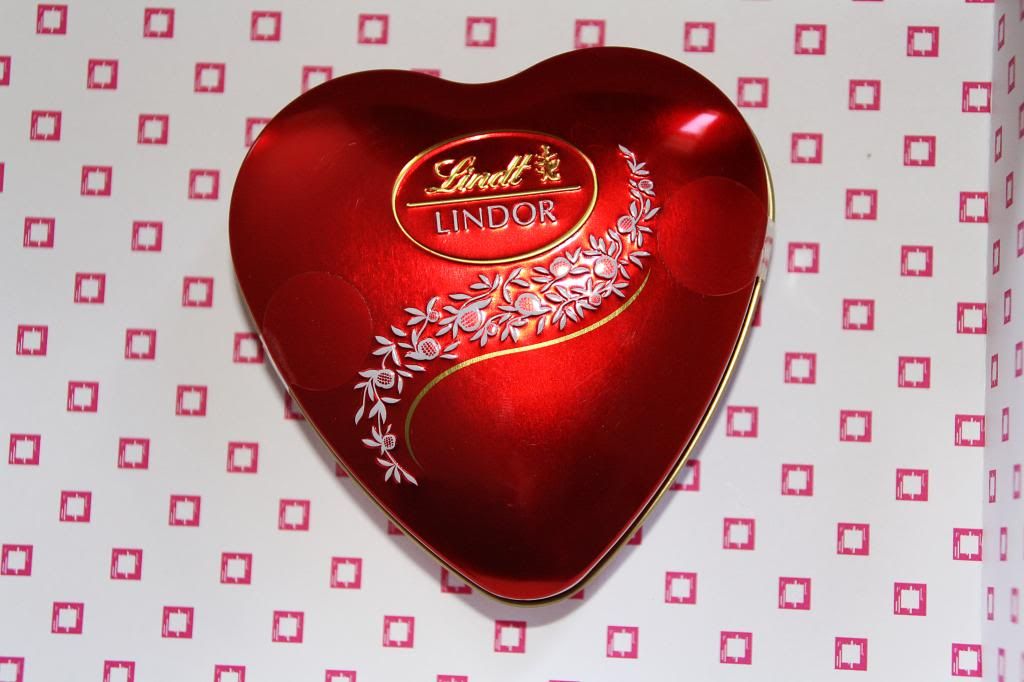 Lindt chocolates.
They didn't survive the writing of this post.
Enough said.
So, what's the overall verdict on this month's (and my first ever) Birchbox? The total value of the box comes to £46.44 - a good amount, though I don't want to judge a beauty box just by the sample values. After all, what good is it if I fall in love with a 20ml sample of a £200 cream if I will most likely never be able to afford it, anyway? There was a good mix of items, ranging between make-up, skin and body care, though it would have been nice to see some haircare included as well.
It's nice to see a full sized product and chocolates are always much appreciated, though I'm a little bit disappointed with the size of the samples, as I don't find they're really "luxury sized" samples.
Are you subscribed to any beauty boxes?